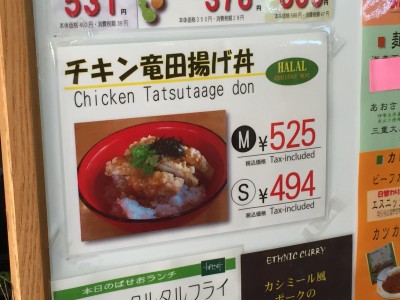 Written by Dwinda Nafisah-san
Good news for Muslim students in Mie University!
Halal menu is now available every Tuesday, Wednesday, and Thursday in Mie University's Paseo, a campus restaurant which is part of Universities Co-Op, from 11:00 to 14:00. Paseo serves different menus each week, so Muslim students can enjoy various halal Japanese menus in campus, such as ramen, gyudon, ebi katsu, and curry rice. The meals offered in affordable price, from 494 JPY for small size to 525 JPY for medium size.
This program received good responses from Muslim students in Mie University. A positive response expressed by Nuril Haya, an Indonesian student majoring medicine at Mie University, "I always try for halal menus here, at least once a week. It is not too expensive and my favorite is gyudon (beef rice bowl)." Mira, Malaysian student who studies engineering in Mie University, has a same response with Nuril. The availability of halal menu in campus helps her to get worry-free lunch in the university. "I can enjoy my lunch in limited break-time without having to cook in dormitory or apartment," she said.
As the flavor of the halal menu is not different with the original Japanese food, it not only attracts international students, but also attracts Japanese students to taste the halal menu.