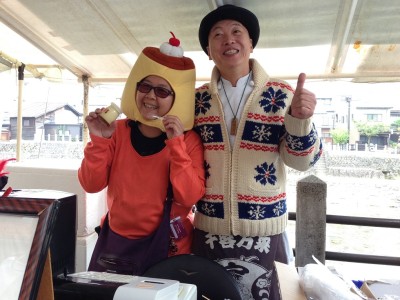 Written by Daichi-san
We, Muslim Friendly project in Hida Takayama, treated an Indonesian woman at our area.
She knew our project at Facebook and came to our area from 7th to 10th Oct.
It was just a time of Takayama festival
which is famous as one of the 3 most big and beautiful festivals in japan, so she watched it.
She also went to Shirakawago, a world heritage village near by Takayama city.
I was glad that she could see and enjoy some Japanese traditional and beautiful scenery in our area.
We challenged various things for treating her because we got a chance to have meals together for 6 times.
Our most harvest is that we could make 2 kinds of special ramen for Muslims which are not contained any pork or anything from pork, or any alcohol.
One is based by miso, soy bean paste, which is made in Takayama city.
This one tastes a little hot but is so good.
Another one is based by salt, and contained sliced citron.
It tastes light and refreshing.
A ramen restaurant made these and provided for a woman.
She liked so much! And she took a photo with a master of this shop.
These ramen will be a formal menu in the restaurant and provide for foreign tourists mainly.
The restaurant "Temma" is below.
http://bit.ly/1OvJn90
It is near Takayama station, and many foreigners go to this restaurant.
We want to say strongly that all restaurants which treated a woman in this time didn't get the HALAL certification.
But there was no trouble. That's all.
I think that to get halal certification is not the best.
It is only one way to treat Muslims.
I think it is the best way to check politely their Muslims' demand what they can eat and want to eat.
So please communicate with them firstly.
It was a big harvest for us that we could get to know about it again.
But there is a problem that Muslims can't get to know which foods are contained some haram things if we Japanese are not next to them.
And almost Japanese also don't know which foods are haram for Muslims because it is difficult to get to know what is contained in foods.
So we must give some information for foreigners what is contained in foods by English or some other languages. It is the same as the action for an allergy.
You, restaurant's owner, don't think difficultly! It is a simple thing.
And if you will go ahead step by step, you will be able to get a big market.
So please try it!
We also will go ahead to make our area "Muslim friendly town" by extending the way of treating Muslims to many restaurants.
So please tell us if you Muslims will come to our area.
We promise that you can like and enjoy.
Thank you.
*The restaurants which had cooperate this time.
1. Aji no Yohei
http://bit.ly/1LHl1nI
2. Kofune
http://bit.ly/1FoGViJ
3. Suzuya
http://bit.ly/1NNqsYl
4. Temma ramen
http://bit.ly/1OvJn90
5. Minkaen
http://www.shirakawago-minkaen.jp/english/admin/
6. Shirakawago no Yu
http://bit.ly/1KBfuBr