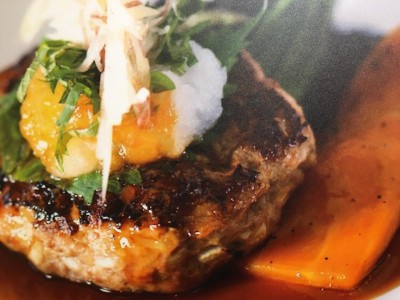 Assalamu alaikum!
I was honored to receive the gold award in the Washoku (Japanese-style recipe) category of the "7th Soy sauce recipe & story contest" sponsored by Japan Soy-sauce Brewers' Association and NHK.
"HALAL teriyaki hamburg steak served with perilla leaves, radish, and soy sauce-based sauce"
I am deeply appreciative of receiving such award with my "HALAL" recipe. Also, the chief juror was Mr. Yukio Hattori, whom had personal interest in HALAL, which provided us Muslims wishing to spread HALAL across Japan with a very valuable opportunity.
A person I met through HALAL relations recommended me to enter this contest.
This contest was the 7th competition and the first time it was targeted towards "recipes using soy sauce made by foreigners living in Japan," accepting entries for "Japanese-style recipe" and "Your country's cuisine."
First, when I thought about which recipe to compete with, I realized my wish of wanting Japanese people to feel more familiar with HALAL, and decided to make a recipe for HALAL hamburg steak, which is hard to find for Muslims, served with a Japanese-style sauce.
However, in this situation, I unexpectedly fell sick, was urgently admitted to the hospital, and was far from even thinking about the contest.
I spent many painful days in bed and finally remembered about the contest the day before deadline.
My wife told me "Maybe you should resign," but I could not give up on my desire of wanting to challenge in the contest, and asked her to bring the recipe book from my restaurant.
The experience of writing the recipe in bed at the hospital with a tube in my nose became a memory of a lifetime.
I entered the contest under such circumstance and completely forgot about it after the fact, so at first, I did not understand what was going on when I received an e-mail mentioning "You were chosen as one of the five finalists among 98 recipes, so please come to compete in the final cooking stage!"
I was very surprised to learn that my recipe passed document screening and that this was an e-mail of invite for the cooking stage to select the gold prize, but since I made it this far, I was fired up to win.
Thankfully, I was able to compete in the contest in my best condition, and participated in the final cooking stage in front of the judges at the school run by Mr. Yukio Hattori located in Yoyogi.
Then came October 1st where "Soy sauce day gathering" was held on "Soy sauce day" in Tokyo, and I received the highest award of gold prize at the commendation ceremony of "7th Soy sauce recipe & story contest."
I would be more than happy if the very honorable award that a simple Muslim and foreign citizen living in Japan such as me had received will help in encouraging Muslims living in Japan and those trying to spread HALAL in Japan.
I would like to thank the person that gave me the opportunity to compete in this contest, Mr. Shugo from HMJ that referred me to that person, all my HALAL-related friends, everyone that was involved in the contest, and to my dearest friends and family that supported me through hard times.
Thank you all very much.
I will be hosting a "Hamburg steak party to celebrate the gold award" on October 24th from 17:00 at my restaurant, "Pran Pone!"
You can enjoy our new menu, which has already become popular, "HALAL baked cheese cake" along with the hamburg steak!
Please come along with your friends and family.
Please click the "Going" button on Facebook from the following page.
https://www.facebook.com/events/950832301622549/
The following is the story behind entering the contest and the review received from Mr. Yukio Hattori.
[Story]
I came to Japan 30 years ago.
As a Muslim, I had a very difficult time finding foods I can eat.
I was not able to eat pork, but restaurants in Japan were filled with pork.
For about 6 months, I was only able to eat at home, with a diet of only fried eggs, rice, and bananas.
I was spending restless nights not being able to eat food without worry while spending time outside for 18 among 24 hours each day.
I had no choice but to take in Japanese eating habits.
From such experience, I always had a wish of serving delicious food in Japan that both Muslims and Japanese people can eat without worry.
And so 3 years ago, I came up with several HALAL recipes and opened my own restaurant to serve these.
I encountered hamburg steak while working at a restaurant specializing in hamburg steak 25 years ago.
After I opened my restaurant, I received many requests from Muslim customers that "I want to eat hamburg steak," and so came up with a recipe for the HALAL hamburg steak.
The reputation was fairly good, with both Muslims and Japanese customers enjoying the food.
I entered this contest with a collaboration recipe of HALAL and Japanese food with a wish that the fact that HALAL is not only "for Muslims" but can be safe, trusted, healthy and delicious food for Japanese people will one day become a common knowledge in Japan.
[Mr. Yukio Hattori's review]
The winner for Japanese-style recipe is the "HALAL teriyaki hamburg steak served with perilla leaves, radish, and soy sauce-based sauce" from Bangladeshi.
There are rules for HALAL in Islam teaching, and food items such as alcohol and pork are prohibited.
They cannot use even soy sauce depending on circumstances, such as when alcohol is used for preservatives.
However, alcohol made by natural fermentation is accepted.
Therefore, I believe that he found such soy sauce and successfully used it in the recipe.
It is said that approximately 8 million people requiring HALAL food will visit Japan for the Olympics.
Actually, it is said that visitors from overseas will exceed 20 million by this year, among which 3 million people are so-called Islamic, or Muslims. This will become 8 million during the Olympics, so it is our future challenge how much food we can prepare for corresponding to such great numbers.
I am still giving lectures on cooking, but it seems that the understanding towards monotheism is still difficult in Japan.
Thank you for making this delicious hamburg steam by making good use of your religious outlook.
Tel

03-3991-5944

OPEN

11:30~15:00(L.O 14:30)
17:00~23:00 (L.O. 22:00)

Address

1-9-5 Toyotamaue, Nerima-ku, Tokyo

Halal Gourmet Japan