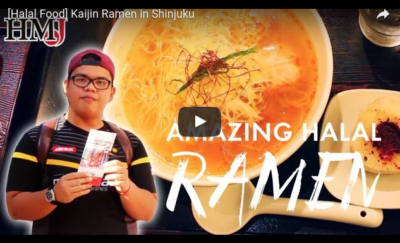 Following up on "Halal food", we went to Kaijin ramen in Shinjuku for our second video.
Kaijin ramen is famous for Shio(salt) based ramen, and their speciality would be soup made from bony parts left after a fresh fish is filleted.
Once you try it, you'll definitely be a fan of Kaijin ramen.
You can tell the tastiness of it by the expression of our reporter syazril.(1:10)
When you come to Shinjuku, why not visit tasty ramen shop "Kaijin ramen"??
and don't forget to try Yakionigiri-zosui!(1:20) featured in our video.
※※※※※※※※※※※※※※※※※※※※※※※※※※※
【Attention】
*Chicken topping (1 piece each) on the ramen are not halal, so don't forget to mention that you're muslim, and you can ask them to remove chicken or to replace it with shrimp in advance.
*Reservation not available (walk-in only)
*English menu is available
*This restaurant is not halal certificated.
※※※※※※※※※※※※※※※※※※※※※※※※※※※
■SHINJUKU
Tel

+81-(0)3-3356-5658

OPEN

[Mon~Sat]
11:00 a.m. to 3:00 p.m.
4:30 p.m. to 11:30 p.m.
[Sun]
11:00 a.m. to 11:00 p.m.

Address

2F, 3-35-7, Shinjuku, Shinjuku-ku, Tokyo

Halal Gourmet Japan
■KICHIJOJI
Tel

+81-(0)422-41-0315

OPEN

11:00 a.m. to 11:00 p.m.

Address

2F, 1-5-9, Kichijojiminamimachi, Musashino-shi, Tokyo

Halal Gourmet Japan