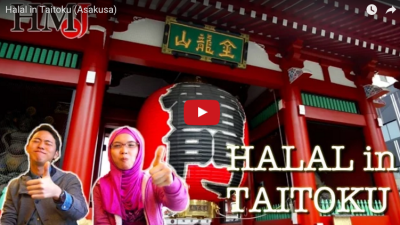 When we published Asakusa promotion video before,some viewers commented that want to know more in detail about ※"Asaukusa map".
That's why we made Asaukusa promotion video "remake ver" by using Asaukusa map.
※"Asaukusa map"
This is a tourist map for Muslim which have information about "sightseeing spot", "halal restaurant", "prayer space",and so on.
In this video,we went to two restaurants,"Sushiken(Sushi)"and"Naritaya(Ramen).
These restaurants got featured on Tv show and lots of celebrities go there,so the food tasted rich and scrumptious!
You can tell the tastiness of it by the expression of our reporter Aya-san.
Also they use halal ingridients and food,and in regards to Naritaya,it is halal certified restaurant,so we can definitely say they're safe to go and eat.
If you have any chances to go to Asakusa,please stop by and try it!
and don't forget to bring Asakusa map!
If you want to check much more information about halal on this map,please download it from the link below!
https://www.halalmedia.jp/ja/tourist-guide/
■Sushi-ken
Tel

03-5246-6547

OPEN

Mon-Sat(月-土) 12:00-14:00 (LO14:00) 17:00-24:00
Sun,Pub(日祝) 11:30-15:00 (LO14:00) 17:00-22:00

Address

2-11-4, Asakusa, Taito-ku, Tokyo

Halal Gourmet Japan
■NARITAYA
Tel

03-4285-9806

OPEN

10:00~22:00 (Mon~Fri) 11:00~23:00 (Sat, Sun, Holiday)

Address

2-7-13, Asakusa, Taito-ku, Tokyo

Halal Gourmet Japan