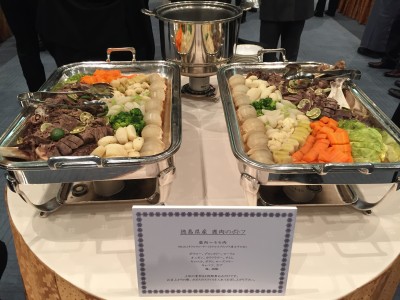 Perhaps Tokushima Prefecture is the fastest municipal in developing and marketing HALAL foods in Japan. Last year, 18 products of five corporations in the province acquired HALAL certificate, and these products are currently exported to Singapore.
HALAL deer meat served at a reception in JAPAN HALAL EXPO 2014 was also served this year, and favorably received by visitors.
At JAPAN HALAL EXPO 2015 of this year, HALAL certificate was acquired for Awagyu (Awa beef) and Lu ramen made with soup from deer bones and topped with kebab was developed, surprising the visitors.
The deer meat processing company in Tokushima Prefecture that offered these products acquired a HALAL certificate for the first time in Japan.
Although gibier dishes are popular among European countries, mainly France, damages by birds and animals are serious in Japan. The attempt of Tokushima Prefecture is very unique, and may become one solution to these problems. Don't keep your eyes off their future actions.