Try their Halal Hida Beef Steak!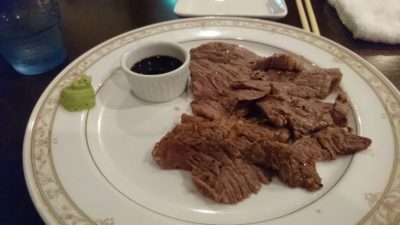 Written by Dwinda Nafisah (Indonesian blogger, http://www.jengdwinda.tumblr.com)
Having a piece of wagyu steak is something luxurious for Muslim living in Japan. It is not only due to its high price, but also its scarcity. Finding halal wagyu in Japan is not easy, especially in Chubu Area. To get halal wagyu, I have to go to the Japan tourism's Golden Route such as Tokyo and Kyoto. It is such a long trip and takes much time since I am living in Mie Prefecture.
However, Juliett Restaurant in Nagoya gave me a good news! It serves halal wagyu steak!
Together with my husband, I went to this restaurant last August. The owner is very kind and gave a menu for halal meals, written both in Japanese and English. Most of the menu is western menu, but they also have some Japanese comfort food, such as omurice and curry rice. The wagyu steak menu attracted my attention. As a Muslim who curious a lot about this special Japanese beef, it did not take a long time for me to decide my order. I ordered the wagyu steak and my husband ordered rib don (rib rice bowl).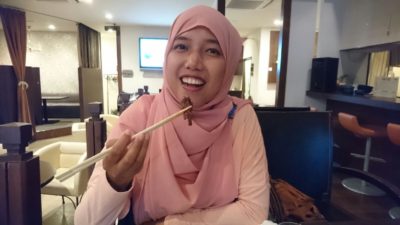 The wagyu steak cost 1,500 JPY and rib don cost 800 JPY. The prices are quite affordable for dinner menu in a big city like Nagoya. Although the wagyu is imported from Australia (where it is processed in halal way), it fulfilled my curiousness about halal wagyu in Japan.
Juliett Restaurant is certified by Nippon Asia Halal Association and having a strict rule to process its halal menu. I am very satisfied with the taste! It melted in your mouth beautifully.
After enjoying my wagyu steak, I told the owner that I am really happy to find halal wagyu in Nagoya. I told her that it is the first time I get a halal wagyu in Nagoya. Her response was surprising. She told me that they also have halal wagyu from Hida. Oh, no! I missed the last page written in Japanese on the menu book which telling about the halal Hida beef! The owner said that the menu is seasonal and they promised to write it in English too so the foreign customer will notice this new menu. Then I ordered my second wagyu steak and share it with my husband. The price for 150 gram Hida beef steak is 1,500 JPY. If you want the smaller one, you can order halal Hida Beef Don for 980 JPY per portion.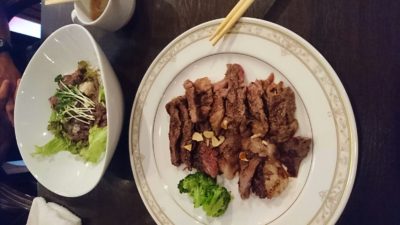 The Hida Beef Steak served differently with the Australian one. Whilst my Australian wagyu served in western style with sauce and broccoli, the Hida Beef Steak served in Japanese style with halal shoyu and wasabi paste as the dipping sauce. The combination between the wagyu, shoyu, and wasabi result an interesting taste. The juice of the beef steak blend with the salty shoyu and the wasabi give you a hot sensation left on your tongue. This food gave me an interesting experience in enjoying wagyu.
Since the halal Hida Beef is a seasonal menu in this restaurant, it is better to go there as soon as possible or call them to ask its the availability!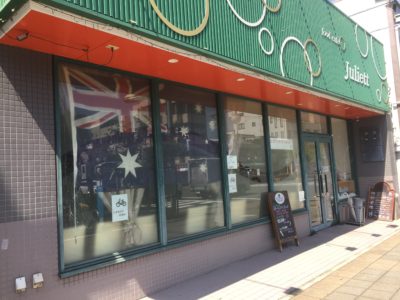 Juliett
Tel

052-508-9909

OPEN

17:00-24:00

Access

Take 1 minute walks from Joshin Subway Station (Exit No.1) or 3 minutes walks from Joshincho (浄心町) bus stop.

Address

2 Chome-4-2 Kaminagoya, Nishi-ku, Nagoya-shi, Aichi-ken 451-0025

HP

Halal Gourmet Japan
Related Article
[card url="https://www.halalmedia.jp/archives/16668/halal-bakery-ali-bakery-opened-in-nagoya/"]